How to modify a printer's manufacturer-specified page size Limits
Overview
Seagull Scientific drivers contain default settings for the maximum print size specific to each printer. These are based on manufacturer specifications.
Printer manufacturers determine the media size and printable area based on the technical specifications of the printer itself.
However, it is possible to change the default settings within the printer properties dialog.
Applicable to
All BarTender versions
Seagull Scientific Drivers
Information
BarTender template size exceeds printer specifications
When setting up a BarTender document with a template size that exceeds manufacturer specified limits, the label preview shows the below error: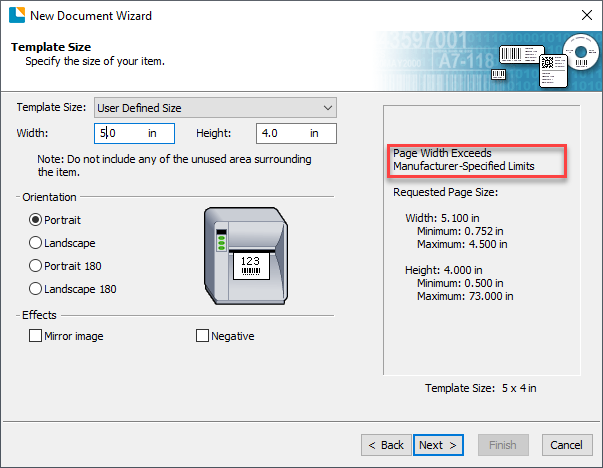 Changing the manufacturer specified media size
If you decide to deviate from the manufacturer specifications, the Seagull printer drivers have the option to customize the Media Specifications:
Right-click on the printer in Devices and Printers, and go to Printer properties.
Go to the Tools tab
Go to Driver Options
Select the Printer Specifications tab
Edit the Media Size as desired