Installation Failure: ShellExtension.dll Failed to Register
Symptom
When installing BarTender, you may see the following message during the installation process.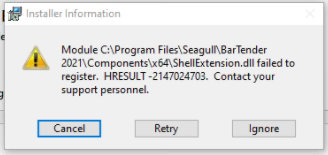 When the option to Ignore is selected, the installation will continue and complete, however, when you open BarTender, you may see one of the following error messages: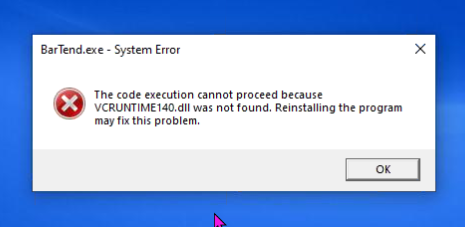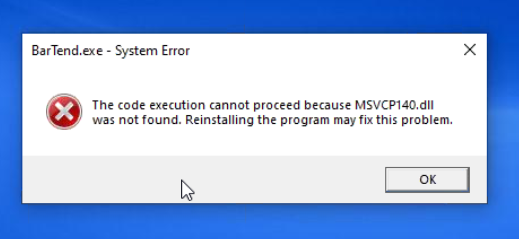 Environment
BarTender 2021 and later
Installations on M1 Mac Computers
Answer
Perform a full manual uninstall of your current BarTender installation and reboot the system.
Install BarTender 2019
Upgrade to BarTender 2021 (when you get the error message during install, ignore and continue)
Then, take the ShellExtension.dll from another computer with a working Bartender 2021 and replaced it in the computer with the issue
Reinstall: Visual C++ 2019 and .NET Framework 4.7.2
Then run a repair on BarTender 2021; this allows the installation to work.
Running Windows under Parallels on an M1 Mac
Apple Silicon runs ARM-based processors rather than x86, requiring different virtualization.
BarTender installations on a Parallels virtual machine will result in the MFCM12OU.dll system error.
You may attempt to re-install .NET to get it running. However, BarTender is not supported for M1 Apple Silicon systems and we cannot provide troubleshooting beyond this. See the Additional Resources section below for more details.
Additional Resources
Manually Uninstalling BarTender
BarTender and Macintosh Systems
Installation Failure: ShellExtension.dll Failed to Register.