Printing With the BarTender Print Connector for Dynamics 365 Business Central
Overview
By using the BarTender Print Connector for Dynamics 365 Business Central, you can print labels from any list or form in Business Central for which you've already configured template mappings. 
This guide will walk you through the process of printing in BarTender Cloud through the BarTender Print Connector for Dynamics 365 Business Central plug-in. If you need help with installation and setup, see our guide on the subject [here].
Applicable to 
BarTender Cloud
Microsoft Dynamics 365 Business Central
Information
Printing From Lists
Navigate to a Business Central list for which template mappings are configured, and then
select the records in the list that you want to print.

On the toolbar at the top, click Actions. If this menu is not visible, click More options to display more toolbar menus.
Select Print with BarTender, and then click Selected record(s) to print only the currently
selected records or All records to print all the records in the current list view.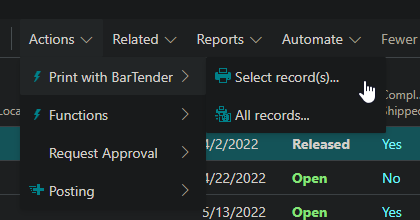 In the Select Template and Printer for printing dialog, select the template and printer that you
want to use, and then click OK.
The record is then sent to BarTender Cloud for printing. If you selected PDF for the printer, the PDF file is
downloaded and has the file name that you configured on the BarTender Template Mapping page.
Printing From Forms
You can also print a label template from a record form in Business Central. The process is the same
as printing from a list, except that when you select Print with BarTender, the resulting option is
Print.
Additional Resources
Installing and Setting Up the BarTender Print Connector for Dynamics 365 Business Central