Upgrading Your License Server When It Is Part of a License Server Triad
Overview
It may be necessary at some point to upgrade one of the License Server nodes in your Triad to a later version of BarTender. This article will explain the best practices you should follow when implementing your upgrade.
Applicable To
BarTender 2021 and later
Enterprise edition
Information
The correct procedure for upgrading your License Server nodes to a later version of BarTender is to upgrade them one at a time:
First, make sure that all three nodes are actively connected to each other.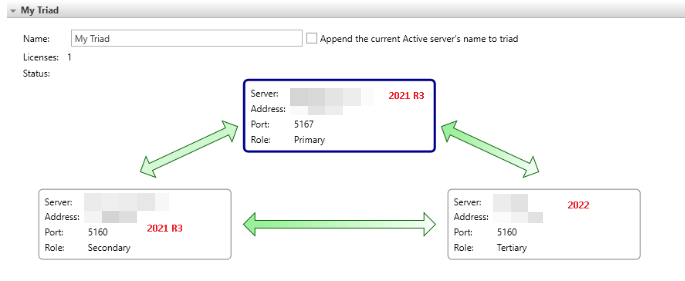 Upgrade your Primary node. Once the update is complete, restart that License Server and wait until all 3 nodes are connected again before proceeding.
Repeat this procedure for the other two nodes in the Triad.
Version Mismatches
You can mix and match BarTender versions among your License Server nodes, but only within the following version ranges:
BarTender 2021 - BarTender 2022 R3
BarTender 2022 R4 - BarTender 2022 R5 and later
To clarify — all three License Server nodes in your Triad must be within one of the two above ranges. If you ignore this rule, (for example, two of your nodes are BarTender 2021 R3 and BarTender 2022 R5), you will encounter this error: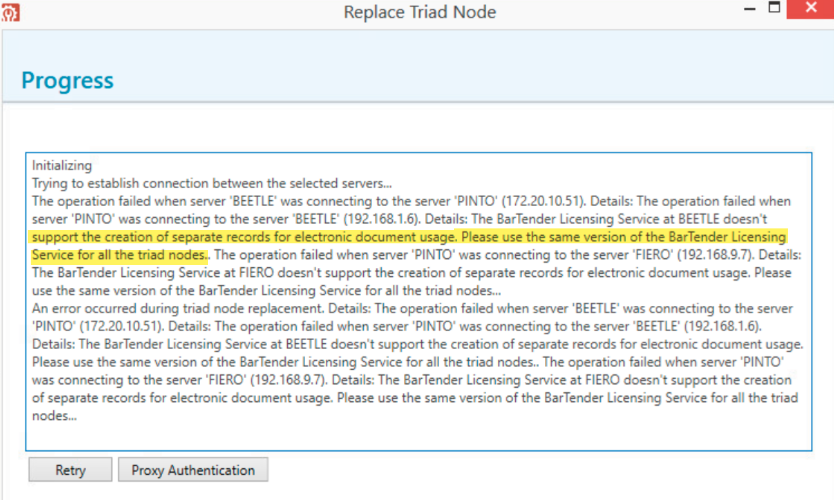 Additional Resources