How to Enable Two-Factor Authentication (2FA) in BarTender Cloud
Overview
With the release of the BarTender Cloud 2023.8 update, you now have the option to enable two-factor authentication (2FA) for your user account. This article will teach you how to enable and configure this feature.
Applicable to
BarTender Cloud
Information
Enabling Two-Factor (2FA) Authentication
To enable 2FA for your account, start on the Manage Cloud Account page in BarTender Cloud.
Click on the Users tab in the left-hand menu.
Click on the verticle ellipsis icon on the right-hand side of the user account that you want to enable 2FA for and select Edit.

Check the Enable two-factor authentication checkbox and then click Save to confirm your selection.

Confirming Your 2FA Enrollment
If this is your first time enabling 2FA on your user account, you will be prompted to enter some information the next time you log in to BarTender Cloud.
First, you will be asked to enter your phone number. This is the phone number that will be texted whenever you log into BarTender Cloud in the future, so make sure it's a device you'll have reliable access to.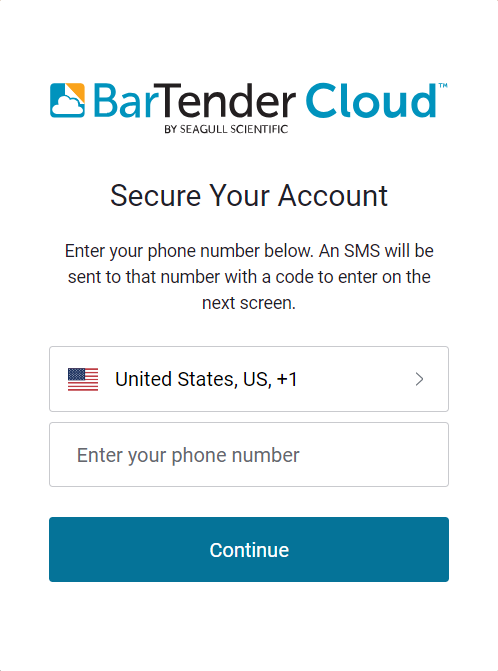 Next, you'll receive a text at the number you indicated with a 6-digit verification code. Enter this code on the next screen.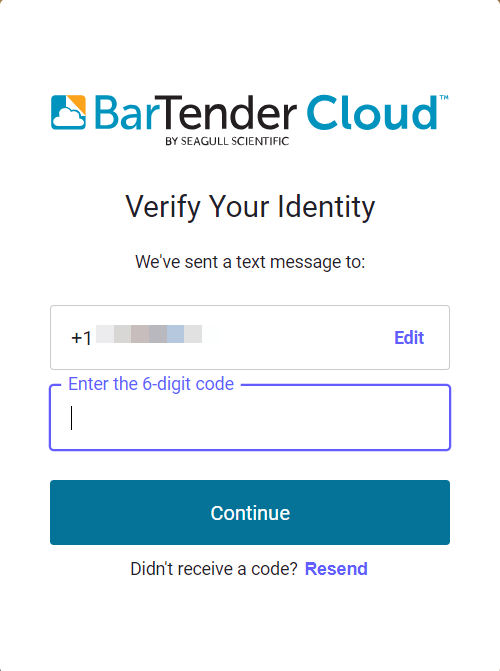 You'll be provided with a recovery code on the next screen which can be used in the event you need to log in when you don't have access to your designated device. Copy and save this code in a safe place.
Once you have saved the code, check the I have safely recorded this code checkbox and click Continue.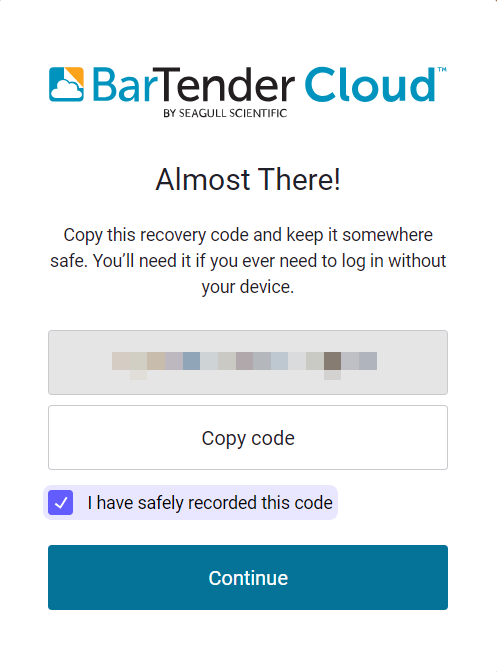 Your account should now be successfully configured to use 2FA.
Logging Into BarTender Cloud With 2FA
Once you've completed the configuration of 2FA for your account, you will be prompted to verify your identity after you enter your username and password every time you log in to BarTender Cloud.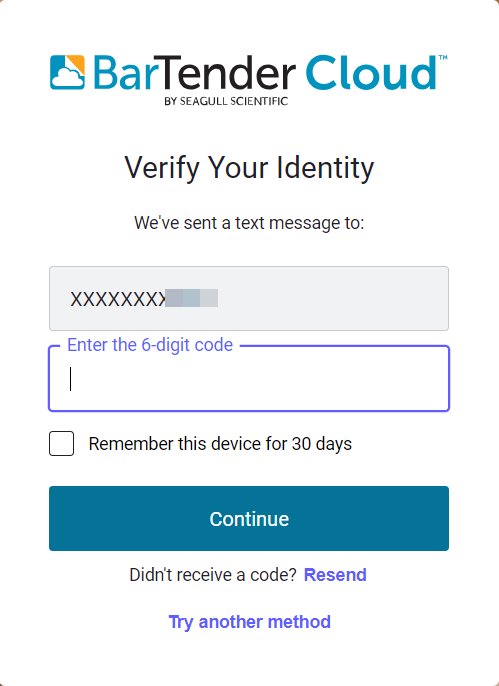 In the event you don't have access to your designated device, click Try another method.
This will allow you to verify your identity through a few different methods:
SMS - through text message, the default option.
Email - the email address associated with your user account.
Recovery code - the code you recorded during the 2FA configuration process.