Error 3127: Unable to print. The PrintToFileLicense property must be set to a valid license prior to printing. Follow
---
Symptom
A user is attempting to print a label document from within Print Station when they receive Error 3127: "Unable to print. The PrintToFileLicense property must be set to a valid license prior to printing."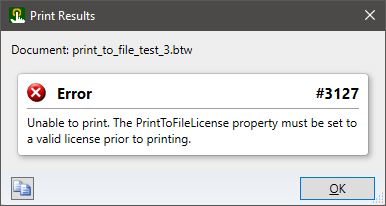 Environment
All versions of BarTender.
Fix/Answer
The document has the "Print to File" option enabled within its Print Dialog. Open the label document within the BarTender Designer (must be an activated copy) and un-check the "Print to File" option, then save the label document.