Install BarTender SQL Server Express Manually Follow
---
All installations of BarTender 2019 require Microsoft SQL Server Express for internal application functions. This is required whether or not you use any application message logging or print logging.
The BarTender installation wizard attempts to install SQL Server Express silently during BarTender installation. In the vast majority of cases, this works flawlessly. However, there are some rare instances where the SQL Server installation fails and you must troubleshoot the installation and install it manually.
This guide will walk you through the steps to figure out why the installation failed and install it manually. The process will consist of the following steps:
Downloading SQL Server 2014 Express from Microsoft
Removing any currently installed versions of BarTender
Installing SQL Server Express
Troubleshooting any SQL Server Installation errors
Installing BarTender once SQL Server is present on the system
---
Prerequisites
Before you begin this process, you should download the SQL Server Express installer.
You can find the installation files here.

Once you've downloaded SQL Server Express, you should completely remove any versions of BarTender currently installed.
Go to Programs in Windows
Look for any BarTender applications
Select the application and click uninstall
---
Install SQL Server
Once the system is ready, the next step is to install SQL Server Express. It is highly likely that you will encounter an error during this process. This is why the BarTender installer failed to install SQL Server in the first place. You will find troubleshooting steps below to help you get SQL Server installed.
Double click the SQL Express executable that you downloaded above
Walk through each step of the wizard, leaving most settings at default
Choose Windows Authentication when asked how you want to authenticate to SQL
At some point during this process, you will see an error during SQL Installation. Use the guide below to troubleshoot your error.
---
Troubleshooting SQL Installation
Setup Account Privileges: Failed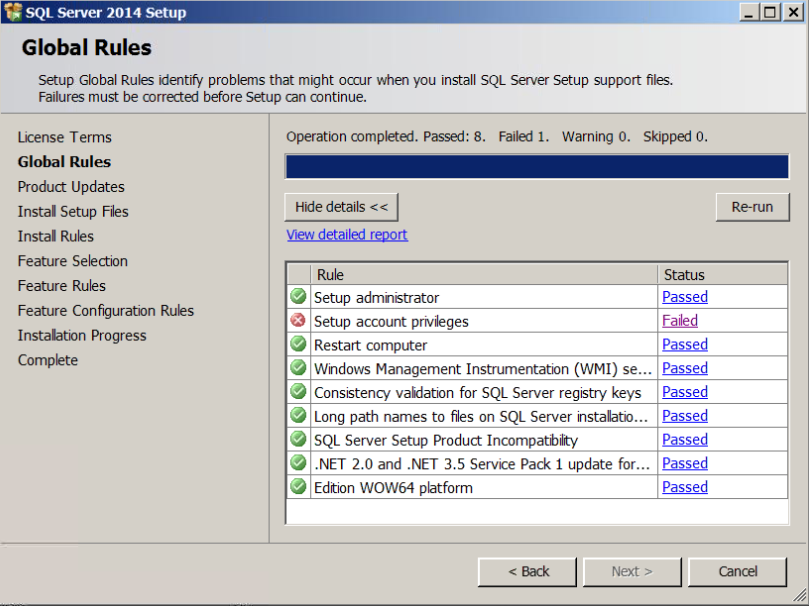 This failure means that something within the Windows Group Policy is preventing the current user from being able to do one or more of the following:
Back up and archive directories
Manage and audit security logs
Debug software
You'll need to log into an administrative account that has these privileges to continue. The dialog will not proceed until all these checks are green.
The specified account already exists
During the SQL installation process, you may encounter an error like this:

          SQL Server Setup has encountered an err when running a Windows Installer File.
          Windows Installer error message: The specified account already exists.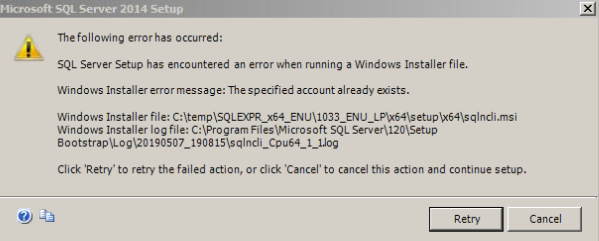 This dialog is relatively unhelpful and means something different than what it appears to be. In short, do the following:
Uninstall the SQL 2012 Native Client
Click Retry
---
Once SQL Express 2014 confirms it has been successfully installed, run the BarTender 2019 installer as administrator.
During the install, you'll see a step saying INSTALL_SQL_EXPRESS. BarTender isn't installing SQL at this step (since you've already installed it). It's attaching to the currently running SQL instance.
Later in the process, BarTender will create its system database within the installed instance.
Once this is complete, you will receive a confirmation and the Activation Wizard will open and you can activate your software.