What are Printer Groups?
A Printer Group is a group of printers that can be assigned printing priority or completely block use of a printer with BarTender. With Printer Groups, you can:
Block access to a printer using the Blocked Group
Assign user access to a specific Printer Group to control use of the printers
Place important, business-necessary printers in high priority
Why use printer groups?
Let's say for example you want to ensure Department A only uses their printers. You can place all of Dept A's printers into their own group and restrict access to this group to allow only A to use it. You can do the same with Dept B so that A cannot use these.
Any printers such as a default document or PDF printer you don't want anyone to use can go into the Blocked group to prevent use of this printer completely.
This control allows you to organize your printers for your organization and restrict access to different printers. This is separate from Printer Pools which restricts access to the printer license counts.
Where are Printer Groups located?
Printer Groups can be found in the following location:
Open the Administration Console on an account that has permission to administer the license.
Click Expand the Licensing section if needed
Click on Printer Usage
At the top, click the Permissions tab.
Locate the name of your license host on the list, if there's more than one.
Click on the host name to open the printer groups configurations.
Features of the Printer Group section
The Printer Group section consists of two main sections: mapping rules and the groups themselves.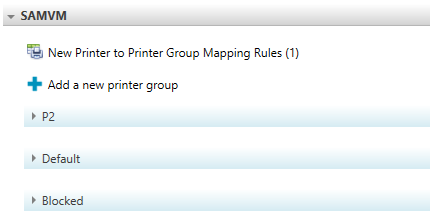 When you first setup the license, there will be two Printer Groups listed: Default and Blocked. You can add as many Printer Groups as you like using the "Add a new printer group" button. By default, all printers used with BarTender and its companion applications will be filtered into the Default group until you set Mapping Rules.
The Printer Groups
Each Printer Group has its own set of settings and information. You can expand a Printer Group section by clicking on the name of the group.

This section lists all the printers which belong to the group (regardless of how long ago they were used) as well as various statistics about the printer, including a job count. Here you can add printers or move them to a different group.
Each section also has access to User Account Controls. These controls allow you to set who has access to the printers contained within this specific Printer Group:

For more information on working with User Access Controls, please see Controlling User Access in the Administration Console.
For more information on managing printers in a Printer Group, please see Managing Printer Groups and their printers
Mapping rules
Mapping Rules allows you to control which printers are sent to which group without the need of human interaction. By default, one rule is set to sort all printers into the Default group.
This section of the dialog lists all the current rules like shown here:

For more information on Mapping Rules, please see How to set and manage Printer Group Mapping Rules to automatically sort printers