Using Librarian features in Print Portal
Now in BarTender 2021 and later, you can manage Librarian label files directly from Print Portal! Performance has also been improved when printing Librarian labels.
Managing Librarian files in Print Portal
Print Portal allows you to manage the labels stored via Librarian in the following ways:
Add a comment
Change the workflow state
View the Revision History for Librarian labels, including the ability to revert to a previous revision of the label
In order to access these options for Librarian files Print Portal must be set to the Details view. While the Details view is active each label will have an options button that shows a dropdown menu: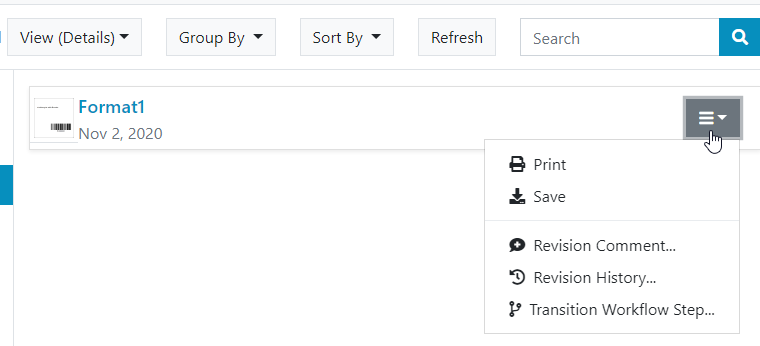 The options are as follows:
Revision History
From the label's Revision History you can see the full history of actions taken for each revision. You can also add comments to an older revision, view a preview of any revision, compare the preview of multiple revisions, or rollback to a previous revision before printing.

Transition Workflow Step
This allows you to change the label's State. States must first be created and configured through Librarian before they can be used here.