Make use of cut path option with Primera LX610 printer
Overview
With BarTender v2021 there is a new feature available: Cut Path.
It can be used to specify the cut path that the printer's cutting plotter takes when the label is printed. This feature is available for shape, box, line, and picture objects: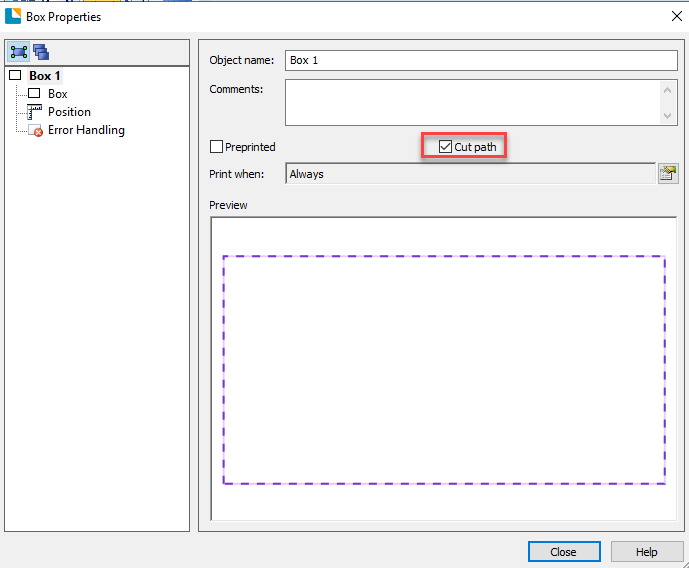 Applicable to
BarTender 2021 and above
Information
The Primera LX610 is a printer model compatible with this new cut path feature, however it is possible that when trying to print a rectangle (or any object) with the 'Cut path' option activated, this message is displayed: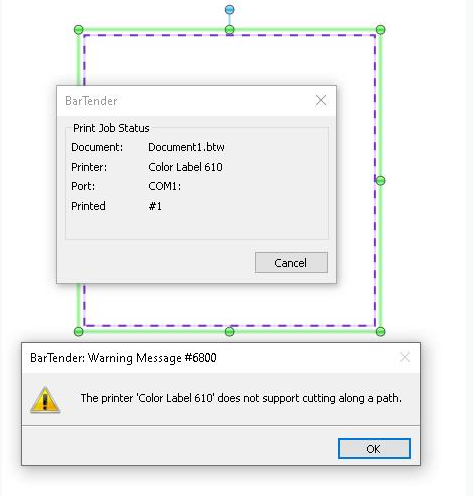 The reason for this is that the current full driver on the Primera site may not have the software update required for it to interact properly with BarTender.

To resolve this issue:
Open the "Primera PrintHub" program
Click on the Settings button in the lower left corner
Go to the Update tab
Select the "Check for Beta updates" check box
Click on the "Check for Updates" button
Download and install the driver. Note: This will require a computer restart
Once downloaded, install the update and power cycle the printer
Internal only information
Some very useful notes from Primera for the LX610.
While the paper feed can handle paper as wide as 6" the print head is restricted to 4.25. Setting the page width above the print head range will likely cause the print to fail.
When using the cut path option the cut path needs to be at least .05" from the edges of the printable area. So post cut label size is no wider than 4.15".