Removing and Reinstalling Seagull Printer Drivers
Question
How to completely remove and reinstall Seagull printer drivers.
Answer
There are some occasions when you will need to completely remove and reinstall the drivers for your printer. This helps troubleshoot common problems that could be the result of incorrect or poorly installed printer drivers. The following steps are written for USB printers, but can be easily adapted to other configurations.


Download the Driver Wizard
Search for your printer brand and model on the Seagull Printer Drivers website and download the correct driver package for your printer.
Prepare for Uninstallation
Close all open applications. Cancel all print jobs to the printer and make sure the print queue is empty. You can open the Print Queue and select Cancel All Documents in the Printer menu if necessary.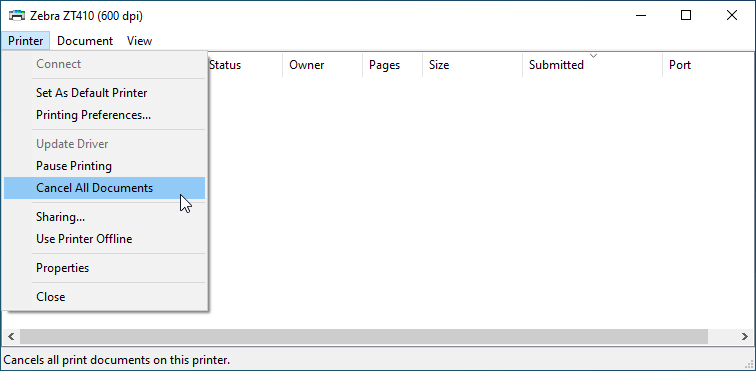 Note: You can open the Print Queue by double-clicking the printer in Devices and Printers from the Windows Control Panel.
Then, power off your printer and unplug the USB connection between the printer and the computer.
Install the Driver Wizard
Open the .exe file you downloaded earlier and accept the terms in the license agreement.
Choose an installation directory. By default, this will be your desktop.
Leave the box checked next to Run Driver Wizard after unpacking drivers and click Finish.


The drivers will unpack to the installation directory and the Driver Wizard will open automatically. You may need to click Yes or enter an administrator password when prompted by the User Account Control dialog.
Uninstall Printer Drivers
When the Driver Wizard window appears, select Remove printer drivers and click Next.
Select Remove printers and click Next.
Check the box next to the printer you are uninstalling and click Next.
Verify your selections and click Finish to begin the uninstallation process
Note: Some printers will require a reboot and will finish the uninstallation process automatically after rebooting. It is recommended to reboot manually after the uninstallation if you are not prompted to do so.
Reinstall Printer Drivers
Locate your driver installation directory and open DriverWizard.exe.
If prompted, click Yes or enter an administrator password.
Select Install printer drivers and click Next.




Select USB, plug the printer's USB cable back into the computer, and power the printer back on.




Wait several seconds. Your computer will automatically detect the printer after the printer's power cycle has completed. When your printer appears in the list, click Next.
If desired, you can then change your printer name, make this printer the default, and choose to share the printer on your network. Click Next.




Note: The default printer will be selected automatically by all Windows applications, not just BarTender. Only choose this option if you won't be using any other printers on this computer.

You might then be prompted to upgrade existing printer drivers. Select the drivers you wish to upgrade, if any, and click Next.
Verify your selections and click Finish.
Additional Information