Error 3408: BarTender Licensing Service is not running on this computer
Symptom
While attempting to print a document with BarTender Designer, Error Message #3408 appears.

Environment
BarTender Designer 2019 and above 
Diagnosis
BarTender Licensing Service is a component that requires to be actively running at all times in order for BarTender to function properly. This issue may occur when there are too many services attempting to start while Windows boots up and BarTender Licensing Service is eventually stalled. To verify if BarTender Licensing Service is running on your computer, open Windows Services and check the status.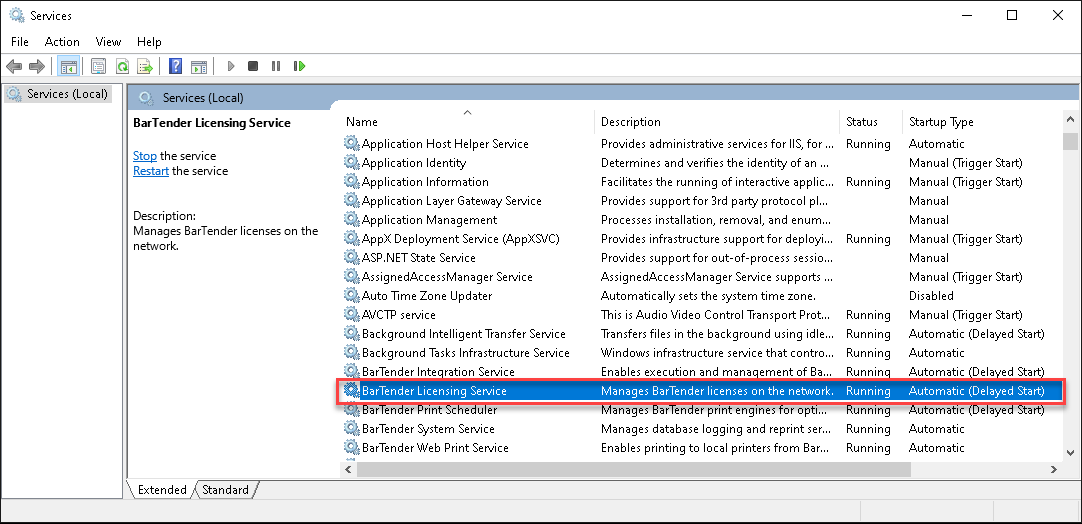 Solution
To resolve this issue, try the following:
To open Windows Services, press the Windows + R keys on your keyboard to open the Run window. Then, type services.msc and hit OK
Find BarTender Licensing Service and right click on it
Change the startup type from Automatic to Automatic (Delayed Start)

Choose "Apply" then "OK"
If the status of BarTender Licensing Service does not show as Running, right click on the service to start it
Try printing with BarTender Designer again which should work now
If the error still occurs intermittently after applying the steps above, try the following:
Open Windows Services again as mentioned above in step 1

Right click on BarTender Licensing Service then go to the Recovery tab

Select Run a Program within Subsequent failures

Click on Browser and select "Licensing Service.exe" in your BarTender installation folder.



Choose "Apply" then "OK" and observe if this permanently resolves the issue.