Error 1604 when opening a label file in a Print-Only Edition after saving in a recent version of BarTender
Symptoms
When opening up a BarTender document in a Print-Only version of BarTender, you receive error message 1604. This document was not created or saved in a demonstration version of BarTender but instead a fully licensed version, so this error message seems misleading.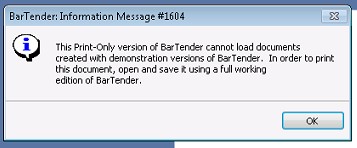 Diagnosis
You have a document which has been edited in a newer version of BarTender, for example, BarTender 2019. You've then saved this document to be backwards compatible to the version of your print-only version of BarTender, for example BarTender 10.1. When you open up the document in BarTender 10.1, you receive this error message despite BarTender 2019 being a licensed version and not a demo version.
Environment
Opening the document: BarTender 10.1 and earlier, Print-Only Edition
Saving the document: BarTender 2019 and later.
Solution
BarTender 2019 and later no longer support backwards saving to Print-Only Editions. This change happened because all editions of BarTender 2019 and later can be installed on as many systems as you like per license. There is no longer a limitation by computer install.
To make a document compatible, you will need to backwards save the Print-Only Edition document in BarTender 10.1 or earlier or look towards upgrading your Print-Only systems to BarTender 2019 or later.
Internal only information
This information comes from BUG-2711