BarTender App Alert: Print Portal does not have the corresponding driver for the printer selected Follow
---
Symptoms
When attempting to print to a client printer using the BarTender Mobile App, you receive an alert stating that Print Portal does not have a corresponding driver and no print is produced.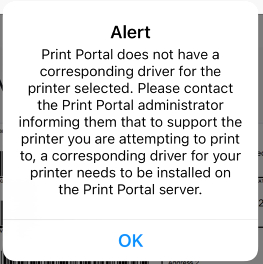 Environment
BarTender Mobile App
Solution
Please see How can you tell if a printer is supported by default on the BarTender Mobile Client Printing App? This article will also tell you how to support a printer when you receive this error message.