Export BarTender Configuration files in Administration Console
Overview
In order to avoid having to reconfigure BarTender from scratch when setting up a new BarTender system, users may want to export their current configuration from an existing installation and import it on the new system.
Applicable to
BarTender 2019 and later
Information
Configuration file locations can be easily found through Administration Console under File Locations. This Node also allows users to export and import configuration files directly from within Administration Console:
​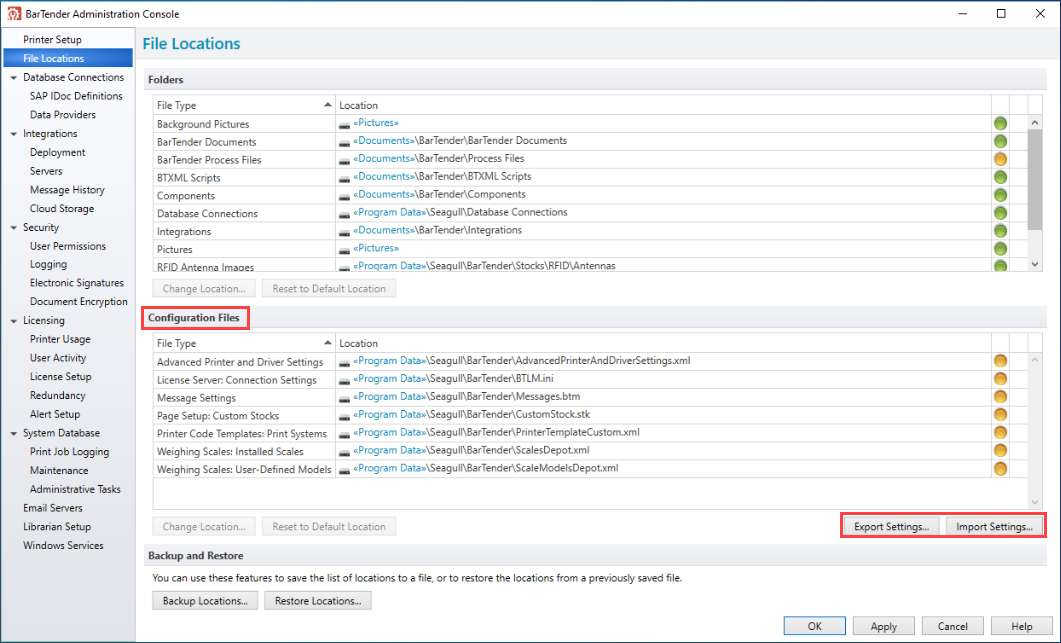 Files
Advanced Printer and Driver Settings: AdvancedPrinterAndDriverSettings.xml

file contains

Advanced Printer and Driver Settings

specified under Administration Console > Printer Setup

License Server Connection Settings:

BTLM.ini file contains client configuration settings to the licensing server.

Message Settings:

messages.btm file contains changes made in the BarTender Designer > Administer > Application Message Setup >

Message Setup

dialog.

Page Setup: Custom Stocks:

*.stk file contains custom

stock definitions in

the Stock tab on the Page Setup dialog.

BarTender is installed with the size and layout definitions of most of the stock types of nearly every manufacturer of media stock and also allows you to create your own.

Printer Code Templates: Print Systems:

*.xml file contains

custom print systems are

created using the Printer Code Template Setup dialog. These are used

when exporting printer code templates.

Weighing Scales: Installed Scales:

*.xml file contains a

ll scales that are installed by using the Add Scale wizard.

You can manage installed scales by using the Weighing Scale Setup dialog.
Weighing Scales:

*.xml file contains u

ser

-defined scale models and protocols.